History


G BEPY was built by Rockwell at their factory in Oklahoma in 1977 and was imported to the UK as new in April of that year under the US registration N1399J. It was owned by Glos Aviation at Bournemouth airport and leased to an operator at Wycombe Airpark where it was based for two years. It was then sold to another company at Wycombe where it remained under two more owners until 1987 when it was sold onto a company in Cheshire.

Over the next decade G BEPY returned to Wycombe and spent some years at Blackbushe under various owners. In 2005 it was sold onto a group of owners based at Cranfield where it was leased out to a flying school for IR training. It was sold to the current 12th owner in 2008 and has been based at White Waltham and Blackbushe since then.

In its lifetime G BEPY has undergone 5 bare metal resprays and has adopted a different colour scheme each time. The original white all over was very much in keeping with the fashion of the 70's but conspicuity is improved when the lower half of an aircraft is painted in a colour which contrasts with the sky, since the 90's the schemes have featured darker colours culminating in the latest red and white design reflecting the factory paint on later 114 models.

The exterior look was slightly changed in the mid 90's with the replacement of the "donut" ventilation air intake on the leading edge of the tail with a NACA vent to improve airflow. Aside from that, the exterior is original.

The interior has not changed much with the delivery leather still holding up well after 33+ years. Interior plastics have been changed as they have deteriorated but they are still 60% original. The instrument panel is the delivery spec original however over the years individual instruments have been replaced as they have failed. The original Century III autopilot has been replaced with a Century I, probably down to economic reasons but the avionics have been substantially upgraded. The factory fit Collins radios and intercom were removed and replaced with a Garmin GNS430 Nav Com alongside a Garmin GMA 340 audio panel. At that time a GTX327 Mode C Transponder was fitted but has now been replaced with a Trig TT31 Class 1 Mode S to keep up with various EU countries regulations. The aircraft still carries its factory fit ADF and KNS80 RNAV which is used as a DME primarily since the introduction of the GNS430.

The engine was replaced in 2003 at the last time-out at 2400 hours with a new one instead of going for an overhaul. At that time a JPI800 engine analyser was fitted to allow accurate management of mixture and power settings. In April 2006 a new Hartzel 3 blade prop was fitted replacing the 2 blade factory spec. This improves ground clearance, reduces vibration and slightly improves rate of climb. At the same time a stainless steel spinner was fitted, purely for aesthetic reasons.









1977 at the Biggin Hill Air Fair (Brand New)




1980 Still in the delivery paint scheme (c) Clive Glaister.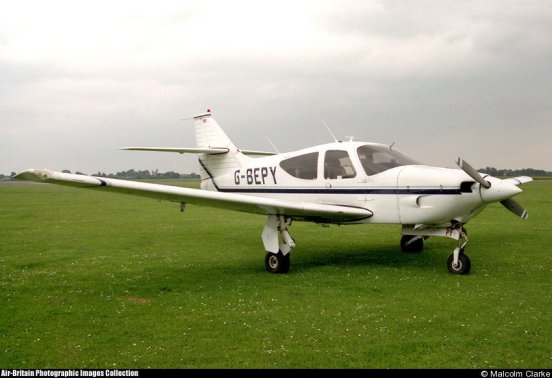 1993 With New Paint and Prop. (c) Malcolm Clarke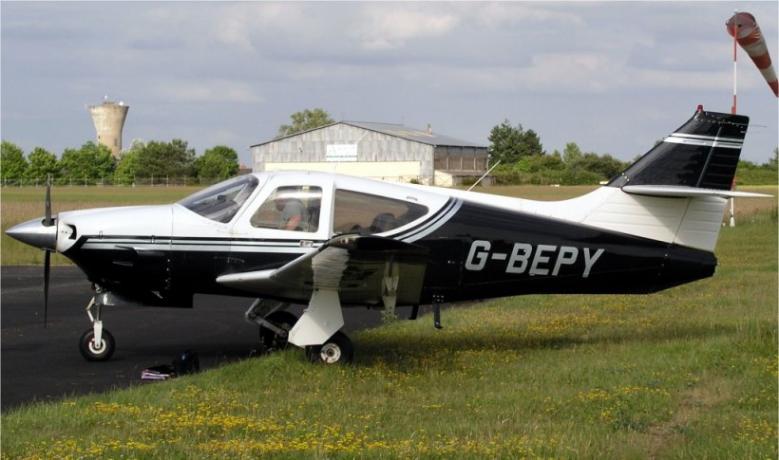 2008 Black and White Colour Scheme and 3 Blade Prop (c) Gary Richards




2009 Blue Later Factory Style Design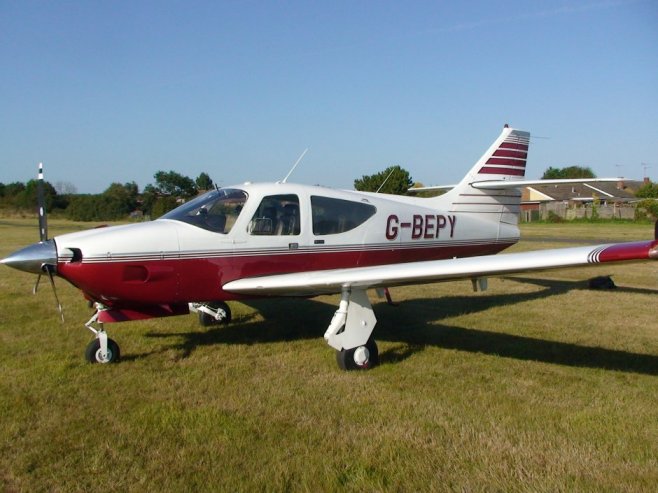 2009 Latest Red Design